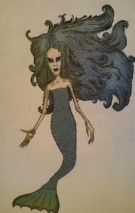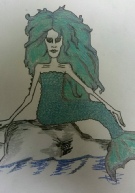 When initially approached about doing artwork for Lilly Prospero And The Mermaid's Curse, Sarah was very relaxed as both her daughters are big fans of The Little Mermaid and she was very experienced in drawing Ariel for them. Of course, it quickly became apparent that she would need to draw something different to her usual design of mermaid to make something for use with Mermaid's Curse products.
After reading the book, the drawings Sarah came up with were these stunningly creepy and dramatic mermaids that perfectly represented characters such as Brinly and Ashalia. It took very little editing for the designs to be finalised!
We then discussed the characters of Lilly and Saffron, the series' protagonists. Lilly is a far easier to interpret in many ways as her look is less striking than Saffron's. The faces Sarah created are beautiful representations of our heroines.